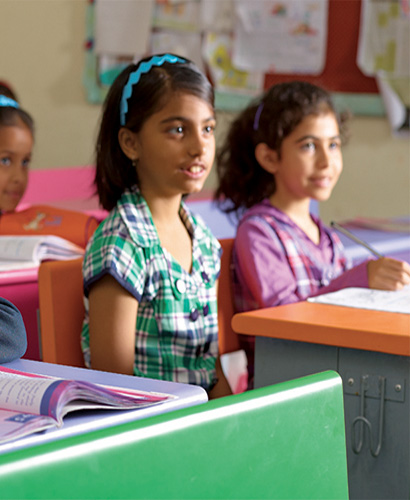 Now's the time to put the child onboard a new journey, called Ithaka. Your child will learn to realise the capabilities that lie beneath. To get to the future that awaits, let the journey begin.
Ithaka provides the best possible start in the life for early learners between 21/2 and 6 years in an environment that would present plentiful opportunities for play, interaction and development.
Give the child a foundation, and you'll see a future.
Ithaka Early Learning Centre (ELC) is specifically designed to suit the needs of the child, with large, bright, colourful classrooms, exclusive toy room and outdoor play areas, complete with modern equipment and a variety of age appropriate toys that children adore. The ELC promotes the development of creativity, curiosity, and self-confidence, whilst delivering the highest standards of individual care. The ample open space with lush green landscape zone designed around the primary block has sensory play areas, such as water features, sand pits and playhouses. At Ithaka, the learning curve of every child is observed, recorded and duly shared with parents.
Ithaka International School follows internationally-relevant Cambridge International Primary Programme (CIPP), an inquiry-based process in learning.
A programme that balances opportunity with talent.
The unique CIPP (5 to 11 year olds) strives for balance between the search for understanding, the acquisition of essential knowledge and skills, the development of positive attitudes and the opportunity for positive action. The child-centred Cambridge Programme fosters not only numeracy and literacy but also creativity and imagination in the student. It provides learners with excellent preparation so they can progress seamlessly into middle school and beyond. Teachers, with only 26 students in each class, attempt to influence the moral development of children by setting precedents of ethical and responsible behaviour.
Let the eyes see, so the mind can capture.
Ithaka firmly believes that hands-on-learning increases lesson retention by nearly 85%, which results in behaviour modifications. To bring classroom to life and provide real-time experiences that support the curriculum, Ithaka has knitted field trips and educational tours as part of the regular course for children aged 5 to 16. It aims to provide challenging opportunities for the students to explore new horizons by experiencing how science, technology, engineering and math apply to real life and real work environments. These highly interactive experiential sessions are aimed to open the eyes and minds to a new perspective to what they are learning. Adventure activities, engaging discussions, live demonstrations and hands-on team projects are organised to provide them insights into their education today and their life after schooling.
Because technology connects inquiry to practice.
The Information & Communication Technology (ICT) programme devised at Ithaka is both a form of knowledge and a language that enables students to engage in cross-curricular learning. It includes much more than knowledge and skills related to computers and their applications. The focus is on holistic and inquiry-based learning, rather than merely considering how to use and implement a gadget. The use of advanced computer lab with latest systems and software, integrates skills, concepts and inquiry to create links between the students and the global community. In addition to the modern computer lab, Ithaka will have a modern language lab to sharpen the communication skills of students coming from different cultural and linguistic backgrounds.
Making education a bridge between childhood and adolescence.
Ithaka offers a balanced, comprehensive, and success-oriented middle school curriculum that is designed to cope with the changing trends in education at national and international level. It provides a sensitive, caring, supportive learning environment for the students who graduate from Cambridge International Primary Programme that would assist them to make the transition from childhood to adolescence.It intends to bridge the gap between self-contained structure of primary schools and the subject-oriented structure of senior schooling.
The Middle School curriculum helps students to:
Become proficient in the basic skills of the subjects
Develop fundamental thinking processes which foster independent learning
Improve Analytical, Logical, Presentation and Communication skills.
Meet the special physical, social, emotional, and character needs of pre-adolescent students